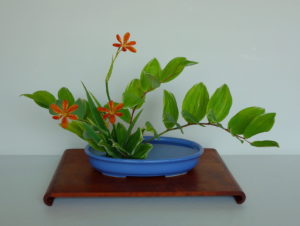 As the COVID-19 pandemic continues, the Ikebana International Rochester Chapter 53 has adapted to virtual events for continued practice of the Japanese art of Ikebana among its members.  Workshop information is shared via the members page and arrangements are made at home.  These arrangements are later shared electronically for the teacher leading the workshop to comment and for all participating members to enjoy through the Members page.  Some of these arrangements are shared through the Events page to keep the public updated.
Board meetings continue monthly to review how the chapter is to move forward to the final goal of returning to in-person monthly meetings.  But, at this time, no definite plans have been made on a date this will happen.  The decision to return to regular monthly, in-person meetings is assessed as new information regarding COVID-19 comes out.  Until the time we do have monthly, in-person meetings, our activities will continued to be posted on the website.
Anyone wanting information can always contact us through the "About Us" page.