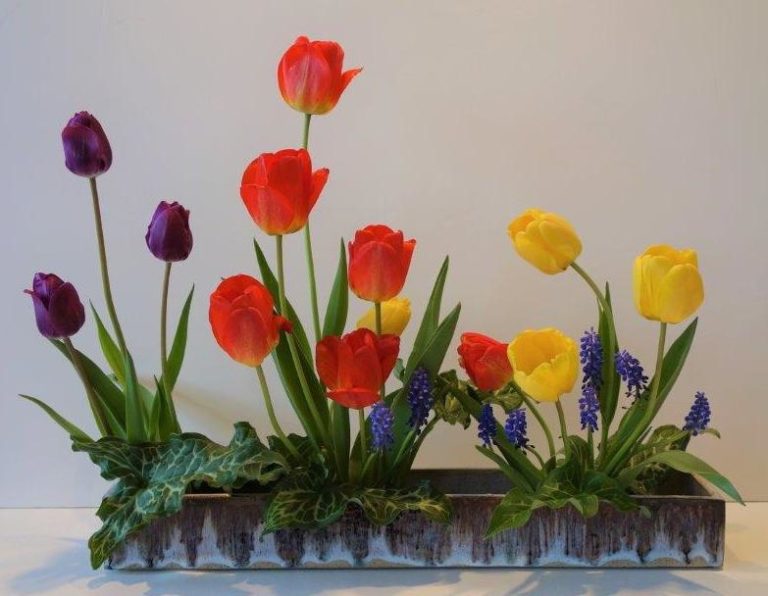 Welcome to Ikebana International Rochester Chapter #53 here in Western New York State. We've been here for almost 60 years, dedicating ourselves to the promotion and appreciation of ikebana, the Japanese art of flower arrangement. We welcome new members and guests who are interested in learning more about ikebana. Ikebana International has 161 chapters in 50 countries throughout the world, uniting people through their mutual love of nature and flowers. Our motto is "Friendship through Flowers."
Before the COVID pandemic, we would meet at the First Baptist Church in Rochester, NY on the 3rd Thursday of the month from 10:00 AM to 2:00 PM, seven months of the year. (See below for the map). At our meetings, our mornings begin with an ikebana workshop. In the afternoon, we would have a cultural program that is associated with flowers/gardening or Japanese life or arts.
We would also host a few evening meetings, so keep an eye out for details and dates on our Events page. They will also be the 3rd Thursday of the month from 7:00 – 9:00 PM.
In addition, we would display arrangements in exhibits and hold public demonstrations and workshops throughout the year so the public can enjoy and learn about ikebana. However, these public events have been put on hold until further notice. Hopefully, we will restart soon this year now that the vaccines are coming out.
There are many schools of ikebana. Some schools stress classic styles; some focus on contemporary forms. And some blend the two. In Rochester Chapter #53, we are fortunate to have teachers in several schools who hold regular classes and give workshops.
Please come and be our guest. Check the Events page and fill out the Contact Us form on the About page if you would like to join us for the day…or year.