Yasuko Spence is the Sei-Shihan (Master Teacher) of the Hijiri Ikenobo School.
She was born in China during the Second World War while her father was an administrator for a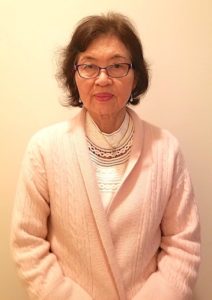 Japanese Hospital in northern China.  When the war ended in 1945, she moved back to Japan with her family where she attended schools in the Nagasaki area of southern Japan.  It was during this time that she discovered her talent in painting.  Her interest in the arts was nurtured by her father who also had an interest in the arts (both Japanese and Western) which he instilled in his children.  After finishing high school, she attended Nagasaki College with an emphasis on English.  Eventually, she moved to Tokyo with her brother.  It was there that being able to speak English was in great demand, so she used her studies at Tsudajuku English school in Tokyo to gain employment with several well-known American companies such as Pepsi and General Electric.  Her family eventually moved to Tokyo and she met her future husband David Spence who also worked for General Electric.  After dating him for a year, she found the courage to show him some of the paintings that she had done during her working at the Japanese Trading Company in Tokyo.  He was amazed at her talent and encouraged her to take up painting again.  She started painting again but in the Japanese art of Sumie (Japanese brush painting) at the Yomiuri Nihon TV Bunka Center.  With her interest in the arts rekindled, she also took up her studies again in Shodo (Japanese calligraphy) and ikebana.  
She has earned her Sei-Shihan (Master Teacher) certificate in ikebana in the Hijiri-Ikenobo School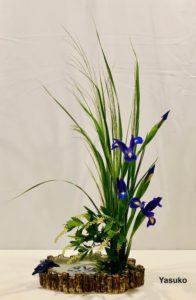 and a Shihan (Master Teacher) certificate in brush writing (Japanese Calligraphy) from the Bunka Shodo Gakkai School.  She also achieved title of Shihan (Master Teacher) with a calligraphy certificate from the Nihon Shodo Kenkyukai (a very highly respected school).   She taught Asian Calligraphy at the University of Rochester for 17 years. 
After her husband was transferred to Tokyo for five years, she was able to continue her art studies from very fine teachers in her area.  She has exhibited her work and received prizes from her schools for her excellence.   
After moving back to the United States with her husband, she joined the Rochester Chapter of Ikebana International in 1997 and held the position of First Vice President for four years and then Treasurer for nine years.  She has received many certificates of recognition by various groups and given many ikebana demonstrations in the Rochester area including the George Eastman House, the Memorial Art Gallery, and events through Rochester Gardenscape, and the Bonsai Society of Upstate New York, The Genesee Region Orchid Society, and Barnes & Noble.  
Besides teaching Ikebana and Japanese Calligraphy, she has also taught the Japanese language for 20 years.  Now semi-retired, she continues to teach ikebana and Japanese calligraphy to small groups of students in the Rochester area. 
Yasuko Spence is a Master Teacher (Sei-Shihan) in the Hijiri-Ikenobo School of Ikebana which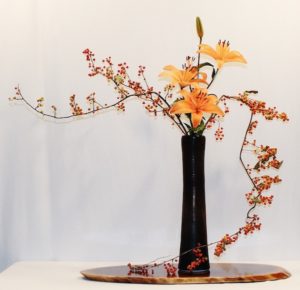 combines the traditional practice of ikebana with the contemporary freestyle style.  She teaches students to this day because it helps her to learn more herself and it is rewarding helping others to learn these arts.  She teaches weekly from 1 to 3 PM on Thursdays at her home and keeps the fee low at $10 per lesson plus the cost of materials.