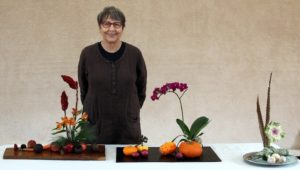 Antoinette Moon was a valued member of the Ikebana International Rochester Chapter 53 family.  She was a member for many years and served as one of its past presidents.  As a trained artist her arrangements showed a degree of sophistication and aesthetics which was uncommon and much appreciated.  Intrigued by ikebana as a Japanese art, she took classes both in the Ohara and Ichiyo Schools of Ikebana and eventually received the Instructor's Certificate in the Ohara school.  Her work has been exhibited around the Rochester area and in her hometown of Naples. NY.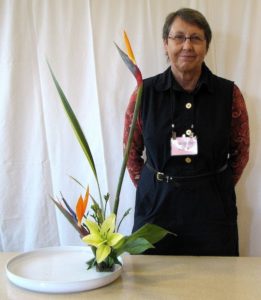 Her birthplace was Ooltewah, Tennessee and she graduated from the University of Tennessee.  After her graduation, she worked in the Social Security Administration in Birmingham, Alabama until the 1980's.  After going back to school, she graduated with a Bachelor of Fine Arts degree from Alfred University with an emphasis on metal sculpture.  Her metal and stone sculptures are displayed in several states.  As one of the artists who started the Allegany Artisans Studio Trail and upon moving to Naples, NY, 25 years ago, she helped establish a trail there.  She also expressed her artistic talents through watercolors and pottery.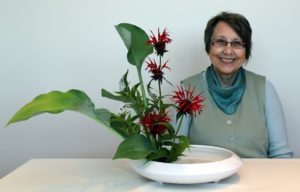 She loved to travel and has visited most of the United States, many European countries, and countless other places. The experiences she had with different people, cultures and geographies were very important to her and gave her many meaningful memories.  She seemed to never tire of meeting new people and places and the experiences they offered.
At 81 years of age , she passed away in her hometown, survived by her loving husband, George Granger, her daughter, Amy Martin and her stepchildren Judy Szalay and Gary Granger, Alan Lewis and her niece and nephew Beverly Wilson, and John Hudson.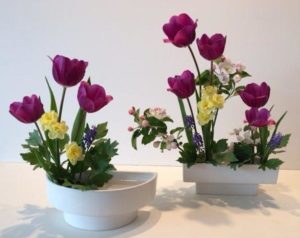 The people who knew her very much appreciated her gentle, and unassuming manner.  She made a special effort to warmly welcome new members in a friendly and was always available to answer questions.   She was a friend to many and will be deeply missed.